HOW WE WORK WITH YOU
Fractional CFO Services for SMBs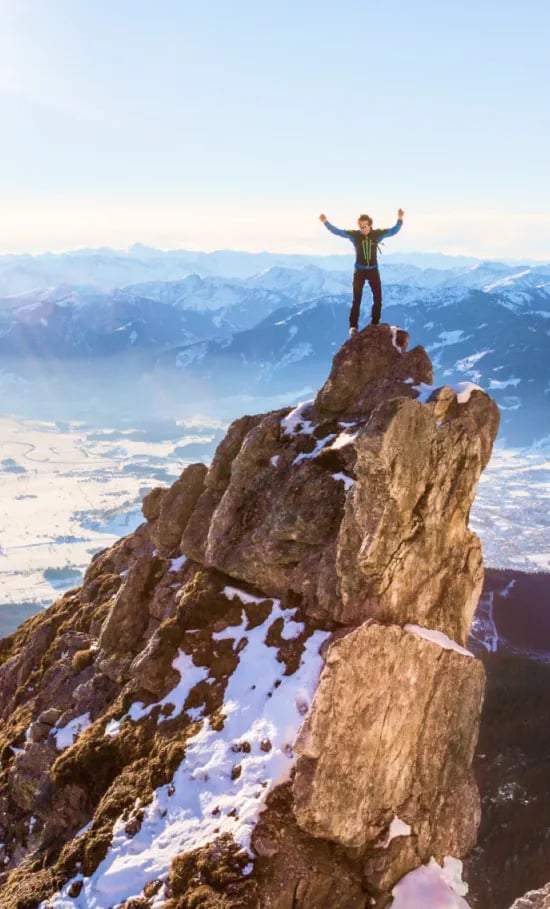 Fractional CFOs Help You Chart Your Path to Business Value
At FocusCFO, our fractional CFOs utilize a balanced approach that helps businesses take their organizations into the future. We work closely with you, helping business owners and leaders make critical decisions that will ultimately provide a clear vision for growth.
Our CFO services focus on key business systems that indicate financial health: cash flow, operations, internal accounting, and revenue. By having tools in place in each of these areas, businesses can operate at their highest level and achieve sustainable, transferrable value.
START YOUR CLIMB
Schedule a consult
"If you're struggling with how you can take your organization to a different level, a quality CFO is essential as you evaluate what you're doing and planning what you need to do."
Mike Davis, President at Junior Achievement
"We needed to know exactly what the numbers were telling us, to be able to make quicker decisions. To stay abreast of the industry, we needed someone to come in and give us information to keep us up to speed.

The benefit of FocusCFO is worth the cost, to give us information we never had before."
Doug Hartley, President of The Hartley Company
"FocusCFO Partnered with our board and staff leadership to analyze our finances proactively. Our fractional CFO assisted with building transparent reports so we have the tools we need to track our financial well-being and plan accordingly. FocusCFO is cost-effective and worth the investment."

Amy Rohling McGee, President at Health Policy Institute of Ohio
"Working with Focus CFO was a great experience for Thomas Door Controls. They assisted us with implementing some cost-saving strategies that we will use for the long-term growth of our company and our CFO brought both an analytical and creative viewpoint, which is a tremendous asset in a consultant."

Scott Thomas, Owner of Thomas Door Controls, Inc.
"I recommend that all of my business leaders do these four things:
Join a peer group
Hire a coach or guide
Implement a business operating system like Pinnacle or EOS
Hire a CFO, fractional or full-time
These will take your business further faster. I guarantee it because I have seen it."
Russ Sorrells, Pinnacle Implementer, Leadership Team Guide, Serial Entrepreneur
At Focuscfo, We Make Top-Tier CFO Services Accessible For Small and Medium-Sized Businesses
Let's face it, running a business is full of challenges. But you don't have to go it alone: Professional CFO services are within reach (and budget) with a fractional model. Our fractional CFOs have decades of experience navigating these challenges and can build models and strategies to chart your path to health, growth, and value.
Our unique approach leads to maximum impact.
Embedded
More than outsourced CFO services, we work alongside you to become a trusted part of your leadership team
C-Level Experience
We have spent time in the C-Suite and as entrepreneurs and bring the right experience and mindset.
Team Approach
We work collaboratively, giving you access to the collective experience of our professional network
FAQs
Questions we get asked often
A.
A chief financial officer (CFO) is a senior executive who is responsible for the fiscal health of the business. The CFO's responsibilities include, but aren't limited to, cash flow, financial planning, building a top-notch finance and accounting team, ensuring revenues and expenses stay in balance, advising on exit planning and transitions, and consulting with leadership and business owners on strategy.
Q.
Can I afford fractional CFO services?
A.
Yes, you can afford an experienced CFO! Scaling a company comes with decisions that may feel beyond the scope of expertise for an entrepreneur, but forward-focused strategy is within your reach (and budget) with a Fractional CFO.
A better question to ask yourself might be, "What is it costing my business to not have a CFO?"
Q.
Is there a revenue mark or headcount that determines when I should add a CFO?
A.
Consider bringing on a fractional CFO when you need to do critical forward planning–when your business is up and running with many spinning plates, but you're not sure where to take it next. At this point you need someone to make sense of the financials. The only person who truly understands the economics of a business—what actually makes it work—is a chief financial officer. You have some data, you know who you're serving and what they are buying, but your CFO will help you understand your business and the overall dynamics better than you ever thought you would. They will help turn the data you have into information and actionable insight.
This isn't an expense, this is an investment. A CFO should pay for themselves multiple times over!
Q.
What does it cost a business to
not
bring on a CFO?
A.
The lack of a CFO's direction leads to many lost opportunities to price your products and services properly, to manage your inventories better, and to separate good customers from bad customers.
There are many hidden costs in doing business, such as the cost of maintaining a demanding client. Its margin on variable costs may be the same, but because of the additional management time and hand holding it's different.
What does it cost a business to not bring on a CFO? A CFO will peel back the onion, at which point you'll most likely find that you're not making money in one or more areas of your business. It's not unusual for a company to be losing money and have no idea where it's going.
It's hard to see without actually running the numbers, which many people don't really know how to do.
Q.
Aren't most CFOs overqualified for my business? Are we too small to hire you?
A.
Our services are perfect for newly established, small, and growing organizations requiring CFO-level services that are scaled to their needs and budget.
There is a growing number of baby boomers who want to remain in the workplace - including a community of highly experienced chief financial officers. This provides a unique opportunity for small and mid-sized businesses to tap into their knowledge and expertise.
The fractional CFO model is a win-win relationship. Your business benefits from their extensive Aren't most CFO's overqualified for my business? experience, at a fraction of a full-time CFO. Average engagement for our clients is one half or one full day per week.
From the CFO's perspective, they benefit from the intellectual challenge of working with several businesses simultaneously, making an impact in their community, as well as having greater control over their work schedule.
Q.
Why do businesses neglect to bring on such a critical additon to the team?
A.
Beyond simply not knowing that they need a CFO, many simply don't want to spend the money.
What many entrepreneurs don't realize is that they're already spending that money in lost profits, lost opportunities and misspending (see below for more on this). They're not seeing the bigger picture and don't understand the dynamics of the business from the educated financial point of view that a seasoned financial professional can bring.
You can't always go with your gut in making financial decisions, which is what a lot of entrepreneurs try to do.
Q.
What are some of the services you provide
A.
We focus on strategic decision-making and planning with an emphasis on maximizing internal cash flow from operations. Our scalable services include:
Business planning
Business foundation
Maximizing cash flow
Assessing operational efficiency
Improving internal accounting
Revenue and sales pipeline
Q.
We haven't officially started the business yet. Can you still help us?
A.
Yes, we can help establish a solid foundation for your new business. Set up a complimentary strategy sessionto determine your current needs and to anticipate future needs as your business grows.
Q.
What industries do you specialize in?
A.
We work with a variety of industries. A few current clients include:
Construction
Development
Distribution
Manufacturing
Not-for-Profit
Retail
Service Companies
Q.
What else will an outsourced CFO do for my business?
A.
A CFO will take a magnifying glass to your numbers and look at staffing and other expenses vs. revenue. When they examine things like manufacturing costs and sales cycles for products, it gives you the information you need to calculate an accurate ROI. A CFO is also in charge of the financial future of a company while maintaining the past. The bills must go out, invoices collected, cash managed, payroll paid, and new business ideas have to be vetted. A good CFO will analyze a new structure and how to model it. The accuracy of the model is key. Calculating the revenue alone won't give you accurate information. You must know the exact costs of doing business so that when you take on new business categories, they are designed to make a profit.
Q.
Why do I need fractional CFO services? Don't my bookkeeper and accountant already do this?
A.
While vital to the financial health of your company, accountants and bookkeepers are not providing actionable forward-focused strategy. Most firms start out with a tax return person, a classic accountant who is in charge of the rear-view mirror. The only period that an accountant examines is the past year, which is a bit late for decision-making, and only at the level of detail needed to satisfy the IRS. The accounting firm has only your tax return in mind and classically assigns expenses to categories that are only appropriate for your tax return and not for running a business. A regular bookkeeper records all transactions and may even helps with sending invoices and collecting money. While the bookkeeper handles payroll and helps file tax findings, you're not getting actionable, forward-looking information.
Q.
How are you different from a CPA firm?
A.
FocusCFO is not a certified public accounting firm—while many of us worked as CPAs in the past, today we play a much different role.
Most firms start out with a tax return person. A classic accountant who is in charge of the rear-view mirror. The only period of time being examined by an accountant is the past year, which is a bit late for decision making, and only at the level of detail needed to satisfy the IRS. The accounting firm has only your tax return in mind and classically assigns expenses to categories that are only appropriate for your tax return and not for running a business.
A CFO, on the other hand, provides actionable forward-focused strategy. We understand that having the best grasp possible of your business is the key to making the biggest impact on future growth. That's why our CFO services are designed to engage all of the key people involved in your company's financial operations.
Q.
I already have a CPA. Can I still use them?
A.
Just like any in-house CFO, our fractional CFOs will partner with—not replace—your existing finance team. Our CFOs provide support and leadership for both internal (for example, your bookkeeper, accountant, and/or controller) and external members (CPA firm, banks, etc.).
Working as a team with the people who can offer insight and advice in key business areas—such as your outside CPA, banker, and internal accountant—is not just beneficial; it's essential.
In fact, our clients' finance teams typically welcome the addition of our CFOs. Their work often becomes more productive and less time consuming and they find they are able to 'work smarter.'
GET IN TOUCH
Financial freedom

starts with a simple conversation.
01
Let's start with a conversation about your challenges and vision to see if we are a fit for each other.
02
A complimentary half-day assessment: A CFO will sit down with you to explore further, assess fit and need, and chart a path forward.
03
Let's get to work: your CFO will work closely with you and your team to set priorities, deliverables, and execute the plan.
04
Reach new heights⁠—with a trusted guide at your side, climbing to greater health, growth, and value.